Chelan Gay Equality Evening
Sep 13, 2006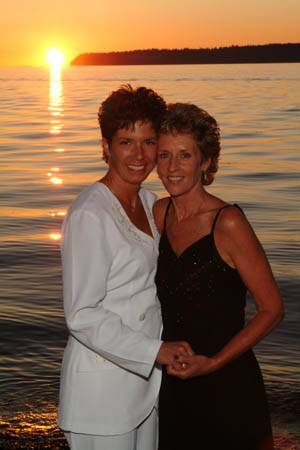 Hi Friends,
THE EVENT
At Riverwalk Books, on September 20th, (7:00 p.nm) I'll be joining with year-long equality travelers Dotti Berry and Roby Sapp. While I sign my new book, Straight Into Gay Amerca, Dotti and Robbi will talk about their Gay Into Straight America travels across the country. For the entire past year, they spoke with hundreds of individuals and dozens of groups to create authentic connections with people on the subject of lesbian, gay, bisexual and transgender (LGBT) equality.
PERSONAL FRIENDS
Dotti and Robby are personal friends of Anne and me. We met before I did my tour and they were inspired to do their own, only they traveled for a full year. The evening in Chelan is their final night of their journey, they return to their home in Blaine, WA the next day.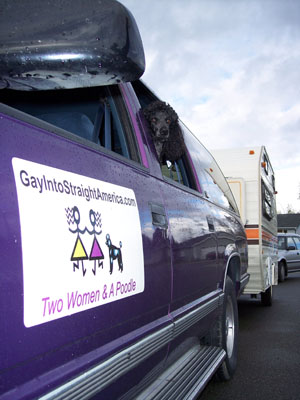 WHY ATTEND
Your presence at Riverwalk Books is not just for yourself, though I assure you a wonderful evening of good stories and good conversation. Your presence will help crack open Chelan's awareness of LGBT reality. Only a few weeks ago did I meet a Chelan resident who told me she is lesbian. There are other, but ours is a highly closeted town.
KOZI wrote back that they do not plan to cover Dotti and Robby's appearance as news. I hope they will change their mind prior to the event. The President of the US, both houses of Congress, the Washington, New York and Nebraska Supreme Courts have all addressed LGBT equal rigths issues this year. Dotti and Robby have explored the grass roots for a year to gain a better understanding of LGBT equality viewpoints. They are coming to our town. This is important news and I hope you'll come to learn and to support their equality work.
There are without doubt LGBT high school students in our schools, and LGBT people living in our communities, but we currently have no existing resources or organizations for supporting LGBT people. Your attendance on September 20th, perhaps most importantly of all, will send a positive signal to our existing but unknown LGBT community members.
If you can make space on your calendar, thank you. September 20th 7:00 p.m.
Blessings,
Lars
NOTE: I realize there's also an important city planning meeting at City Hall at 7:00 p.m. on the 20th. The planning meeting is vital and needs our support. If you're headed there first, please swing by Riverwalk Books afterwards to greet Dotti and Robby.
<< Back